Interior design is an achievement of harmony due to color, interior items, as well as their placement. Interior design has two incredibly important principles that define a finished project.
---
Symphony of taste: what style of interior to choose?
Before embarking on the design of interior design, you must first determine the style to which you will give the main role in the musical of your home. Interior style is a matter of taste, so choose it based on personal preferences and the type of your house or apartment.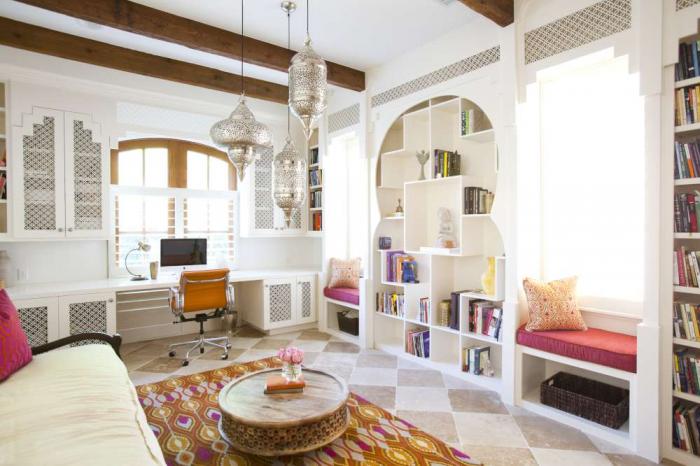 Classic style in the interior
What do we imagine under the concept of "classic"? A certain tradition and, above all, a calm atmosphere that inspires confidence. Absolutely all elements of the interior should say with confidence that they are chosen not only with taste, but also with soul.
The classics as well as possible will emphasize respectability and success of owners of the house. Choosing a classic style, remember that its principles should be adhered to absolutely in all rooms.
GENERAL CHARACTERISTICS OF THE CLASSIC STYLE

Furniture

Traditional furniture made from natural materials is used (better if it is wood).

Details

Carving and mosaic in its various manifestations. As well as columns, bas-reliefs, stucco with gold.

Colors

Light shades look most harmonious in this style. Gilding is extremely popular.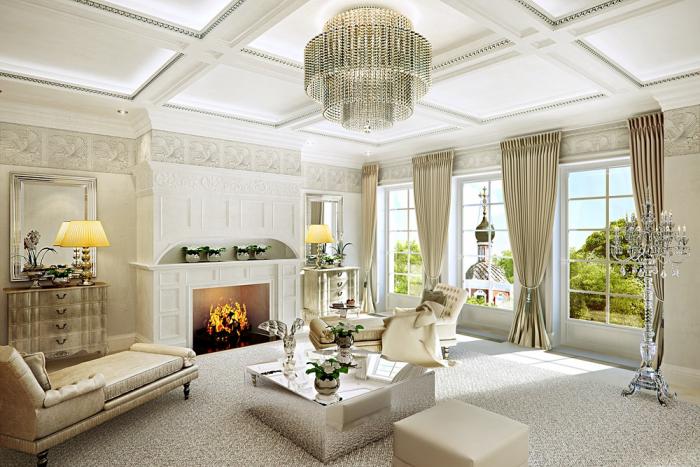 Japanese style design
This style has "three whales", on which it keeps:
conciseness;

simplicity;

asceticism.
In order to characterize its specifics as accurately as possible, it is only necessary to imagine a combination of noble materials and the simplest forms. Japanese style is also devoted to tradition. The tone of the interior is definitely set by light shades, low furniture and, perhaps, smooth surfaces.
The most commonly used materials are:
silk;

cotton;

linen;

wood.
The central place in such an interior should be given to energy sources, such as small fountains, which are decorated with natural stone.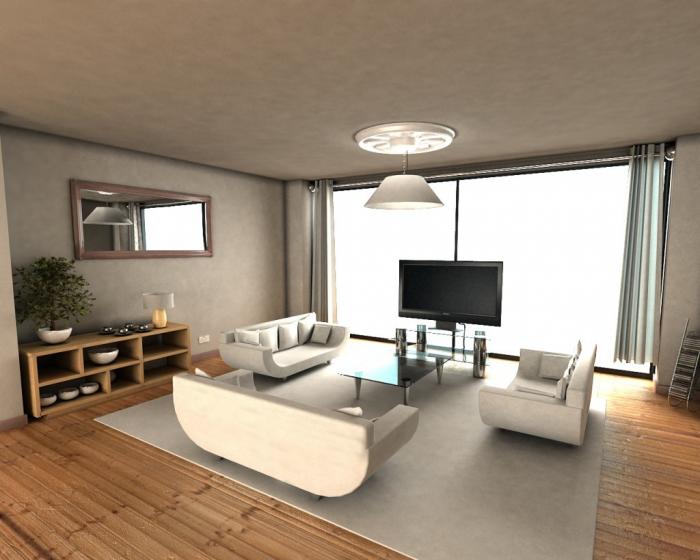 Minimalism in the interior
The presented style is characterized by simplicity and maximum restraint. Despite the minimum content of things in the room, the desire for comfort and comfort in this style is the main feature.
When creating minimalism in houses and apartments, designers use light color schemes, preferring natural colors such as:
peach;

creamy white;

pink;

lactic;

lilac.
The lightest shades are usually used in decorating the kitchen or bathroom , and in living rooms more juicy colors will be acceptable.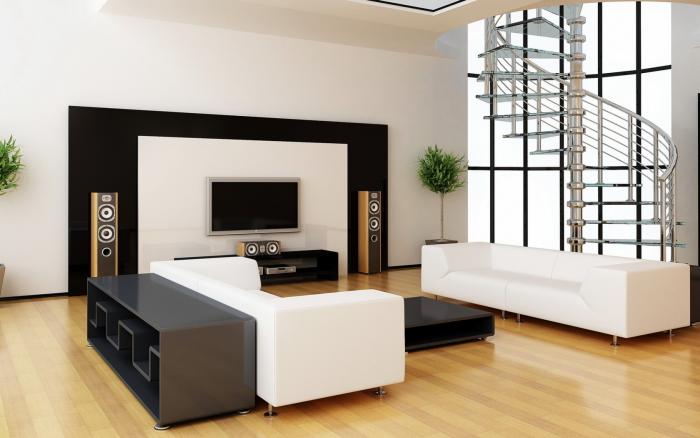 Interior design in high-tech style
The main principles of the interior can be considered:
glass;

laconic lines;

active and very juicy shades;

plastic;

clear forms.
A real decoration of the interior, made in the style of hi-tech, can be considered a variety of details that can be considered to be borrowed from the world of industry. These can be bolts, valves and chrome pipes.
The color scheme is as concise as possible, because minimalism does not recognize any ornament or pattern, the main thing is space, light and clarity. The most commonly used gray, black and white colors in the interior. You can dilute the interior with a small amount of green, yellow and red colors.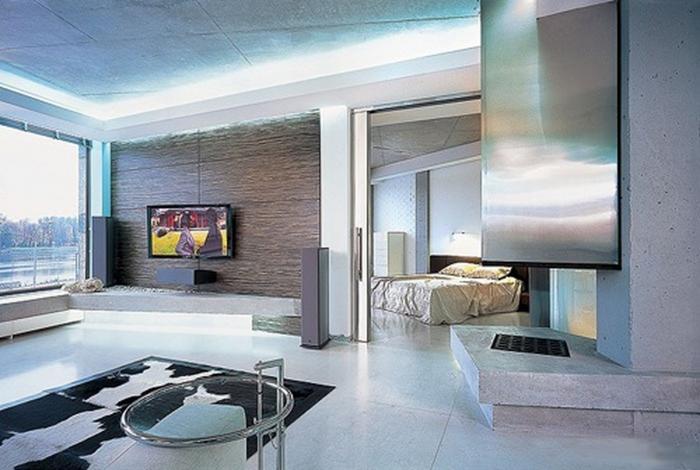 English restraint
The severity and stiffness – the fundamental principles of the English style in the interior. But these principles do not interfere at all in bringing the coziness necessary for every home into the interior. This style compares favorably with the rest of the high quality materials used.
Loyalty to the traditions and traditions here is a red thread. Perhaps representativeness and some kind of calm luxury – just the words that come to mind when you look at such an interior.
This style prefers a variety of wood species, it is better if it is walnut or oak. Furniture can be draped with woolen fabrics, it is only important that they are of high quality.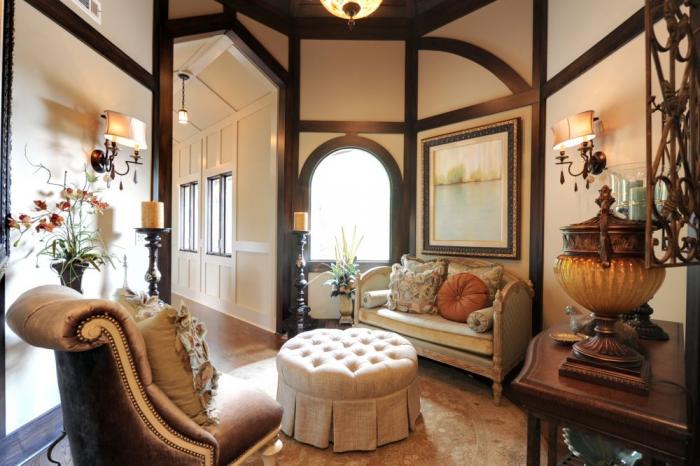 Mediterranean style
The key and most important concept in this style is the sea, which always brings us incredibly pleasant emotions and the most memorable moments in life. The colors used in the interior are stolen from nature, so look around (especially if you are somewhere on the coast of Greece) and bring your ideas to life with nature adjustments.
Marble or ceramic tile is often used for the floor , but it is desirable to make walls with a certain unevenness, which will hint at the man-made origin.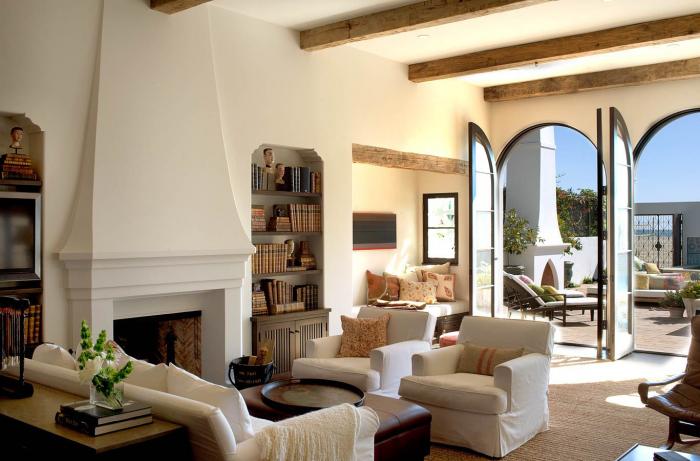 Modern design style
Absolutely all accessories that are lovingly added to this style should be as calm as possible in structure and simple in form. Do not strike the bell, if the shelves in the house are half empty, cleanliness of style welcomes such decisions.
The color glass which does not have any relief deviations and snow-white porcelain will ideally fit into a modern interior. Bouquets of flowers will not be superseded by rods and brushwood.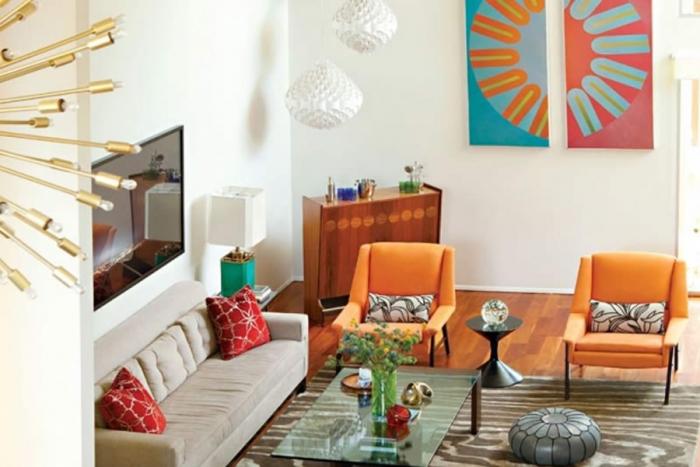 Provence
Provence style in the interior is definitely comfort and simplicity. Such interiors are made in the best traditions of the French province.
Characteristic features of this style:
light curtains (ideal if you get the effect of weightlessness);

white furniture;

pastel shades;

floors of light colors;

Natural flowers;

Many accessories from fabric, porcelain and ceramics.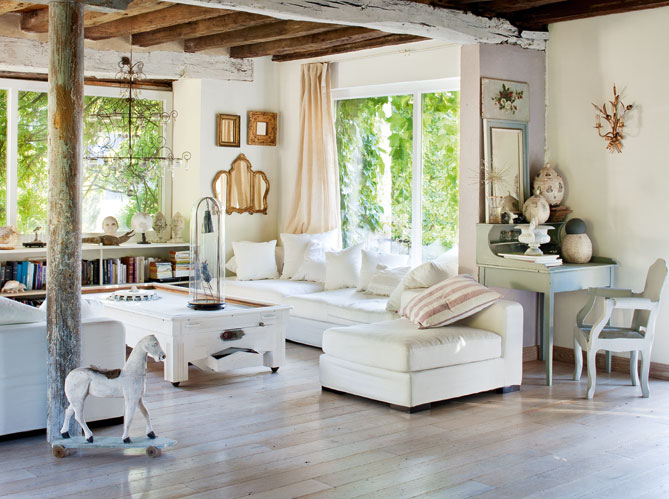 Country music
The basic principles of creating such an interior are:
functionality;

simplicity;

no pretentiousness.
The coloring of such interiors is as close to nature as possible. The use of green, blue, terracotta colors is welcomed. For this style, in fact, is characterized by multicolor, so do not give up the rich colors in the interior.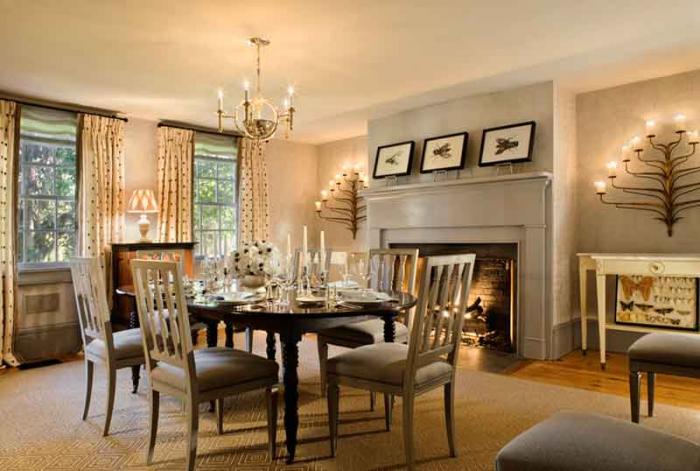 Kitchen design: from plinth to spoon
In the interior of any kitchen details are important, so pay them special attention depending on your chosen style. For example, high-tech accepts the use of metal surfaces, as well as glass everywhere, so when choosing accessories there is no need to drag spotted towels from country style here. In each of these styles, blinds will become an excellent design element .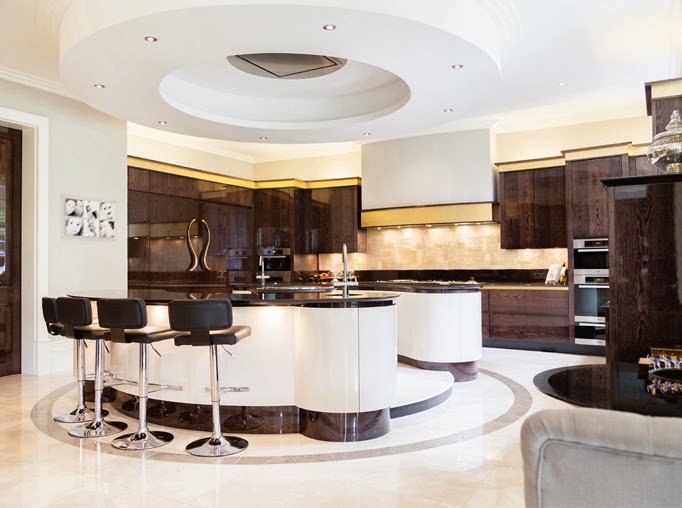 Small kitchen: expanding the space
For sure, it is not a secret for you that it is thanks to the design that one can surprisingly expand the space of any room, including the kitchen. A small kitchen is, of course, a problem, because there is so much to fit into here.
First of all, to expand the space, use glossy or reflective surfaces. The best style choice in this case would be modern style or modern. The minimum number of accessories that is provided by such styles in no case will not litter the space.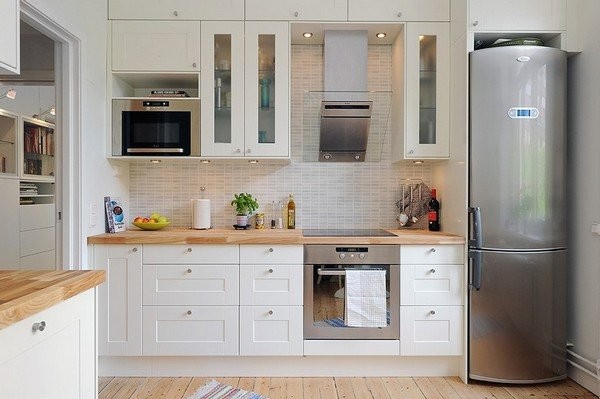 More photos of small kitchens .
Kitchen design 12 square meters
Such footage is most often characteristic of new buildings and it really is almost a gift from heaven. Moreover, apartment owners can hardly count on a good kitchen footage in a private house .
Nevertheless, even on such a footage you need to be able to organize everything so that the space is as balanced as possible. You should start from the choice of style and kitchen wall, which is the main piece of furniture. It is better to prefer furniture with hidden traveling shelves that hide all unnecessary kitchen accessories.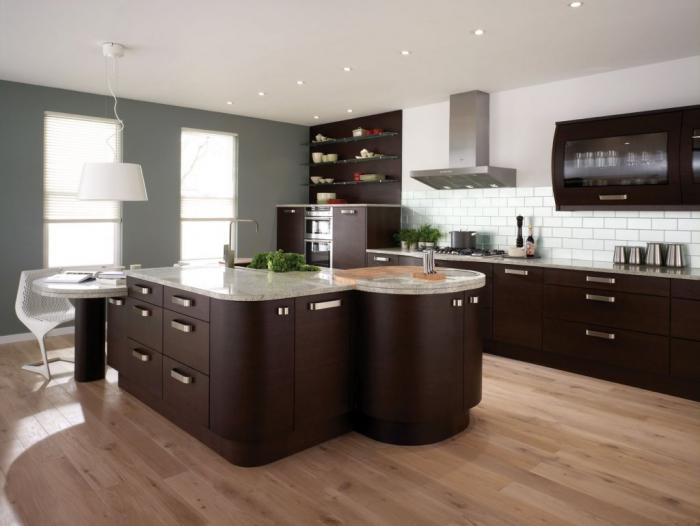 More photos of kitchen design 10 square meters .
Ceiling design
At first glance it may seem that ceilings need a very simple finish, which does not require special knowledge. However, it is not. Professionals confidently declare that ceilings are one of the most difficult elements in terms of cladding. In many ways, this can be explained by the fact that it is necessary to properly prepare the surface before doing the final work.
Ceiling decoration can be made of various materials. In modern repairs, gypsum board is most often used or the "suspended ceiling" structure is installed.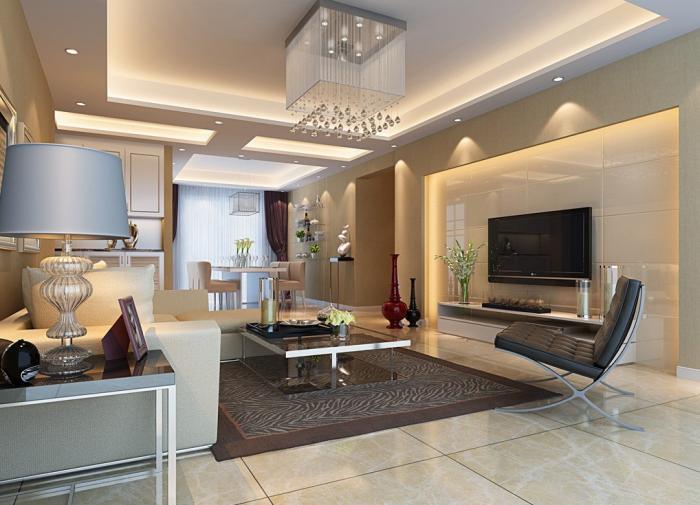 Hallway interior design
An entrance hall is a kind of "calling card" of your whole house, which in turn should welcome guests invited by you. And therefore, the importance of the interior of this part of the living space doubles. As the saying goes: "A person is met according to his clothes," the same proverb applied in principle to your home. After all, the hallway, or rather, its design, this is the "clothes" by which guests can judge all your housing.
But, nevertheless, do not forget that the hall should be not only beautiful, but also functional. After all, this part of the house or apartment is initially provided in order to be useful to you: to keep your outerwear, umbrellas, bags and other equally important things. Therefore, your main task is to organize this space in such a way as to receive not only aesthetic pleasure, but also to rejoice at the fact that your hallway is roomy for other important things.
So, as for the color solution, then, as the saying goes: "there are no friends for taste and color", so what color to paint the walls or glue the wallpaper is just your choice. Show your design fantasies and do not be afraid to experiment by combining incompatible colors that seem at first glance. But do not forget about the little tricks that professionals use in their work. So, if you need to visually expand the space of the room, it is better to prefer light shades in the decor and horizontal pattern. Lovers of dark shades in the design should carefully come up with the lighting of the room, on which the correct visual perception of the space also depends.
Yet more attention should be paid to the floor in the hallway. The strength of the material and its moisture resistance are important here, since it is this part of the apartment that is most affected by the negative effects of dust and dirt that we and our guests bring from the street.
The ideal solution would be a ceramic tile floor covering. The choice of color and shape of such a coating is also huge, but in this case you will need to take care of additional floor insulation, thinking ahead of the cold winter evenings, when coming home you do not want to lower your feet on the cold tile. A good option is also flooring using parquet boards. Moreover, the parquet gives the room some additional home comfort, but it is more picky in its use and care. It all depends on your capabilities and desires.
The fundamental part of the overall design of the hallway is the furniture that you select. The orientation in the selection of furniture should still be on the FUNCTIONALITY. Decide initially how many things your living room will have to store, and only then you will understand whether you should buy a massive wardrobe or limit yourself to laconic Art Nouveau shelves . In any case, you should also focus on your inner sense of style and taste. Whichever option you choose, familiarize yourself with the possibilities of using corner wardrobes in the interior. You should also take care of the organic combination and transition of the hallway design and living room design., so that neither you, nor your guests have a feeling, as if these two rooms just happened to fall into one apartment and nothing unites them anymore.
In general, create, but be intelligible and do not lose the sense of proportion, and then you, as a young amateur designer, will surely have admirers.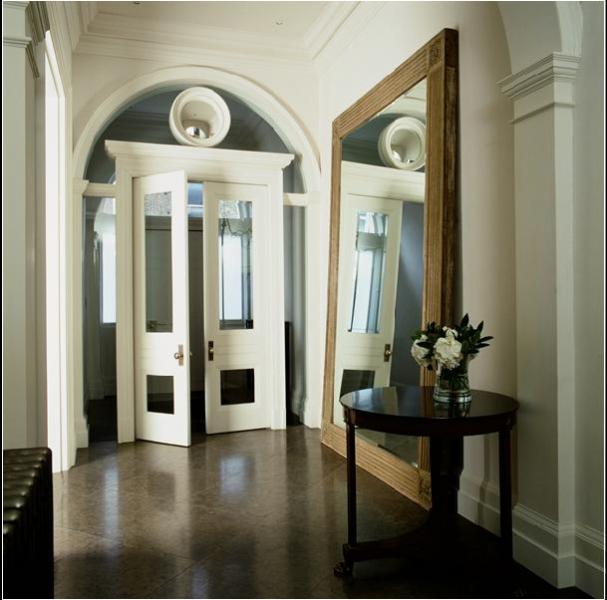 Bathroom interior design
The bathroom is the most intimate place in the whole house, but over time it can be transformed into an unrecognizable form, combining various unwanted boxes and jars. To prevent this from happening to your bathroom, you must initially take a responsible attitude to the issue of the interior, which would eradicate this problem in particular.
Of course, much of the design of the bathroom depends on the plumbing that you purchase for it. It is important to note that the savings in this matter will not be the original right decision. Having cheapened once on a high-quality product, you, most likely, will doom yourself to permanent repairs, because changing plumbing equipment without causing harm to the room itself is not an easy task, even for experienced professionals. So, the main rule is to buy high-quality sanitary ware to avoid additional stress for you and your wallet.
Another, no less important part of the interior is the choice of ceramic tiles that will decorate the walls and floor of the room. Now many shops offer ready-made options for color solutions and combinations of ceramics , but do not dwell on them. In principle, anyone without a sense of style can choose the color combination for their own bathroom, and therefore, if you want to be original, then this is your option.
The style of the bathroom should be unobtrusive, and most importantly, one that you would like directly as the owner or owner of the property. Now the most popular style is considered "modern" and "country". So "modern" provides for a minimum amount of equipment and additional items, positioning the value of space as such. Color combinations are the most simple and concise, add to this also smooth lines in the texture and abundance of glass and mirror objects. The style of "country" is preferred by most of the girls, because it presupposes the presence of various color combinations, bright elements in the decor and prints.
Between all this, it is important not to forget about the functionality of the bathroom. If your home is not famous for its huge size, then the bathroom should be designed so that it is convenient to use for its intended purpose.
To save space, you can install a shower stall instead of a full bath, so you will have a place for a washing machine and a laundry box.
Well, if you are more lucky and your bathroom, in terms of size can correspond to the size of the living room of a standard one-room apartment , then tips on saving space will not be useful to you. In any case, the bathroom should not only be comfortable, but also beautiful. This principle and should be guided by thinking about the interior for your bathroom.
Related article: Bathroom Furniture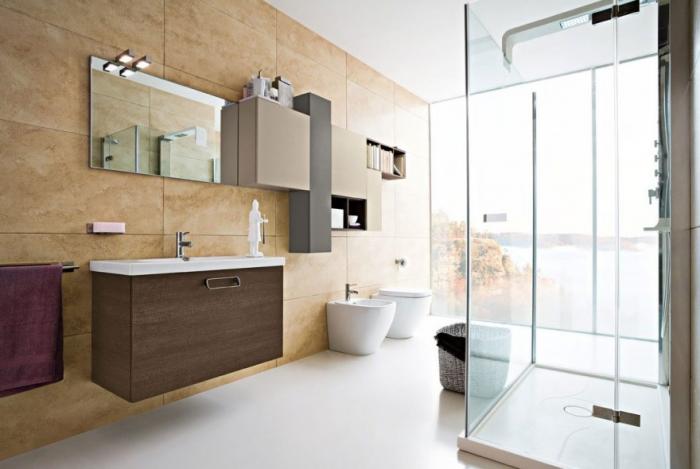 See more photos of bathrooms .
Children's room design
It just so happened that the children's room is considered the most comfortable place in the whole house, because, as they say, "childhood is kept" and the most important part of any family is children, therefore the design of this room is always filled with great love and care.
Basically, parents are engaged in the design of a child even before the appearance of their offspring, thinking through the color combination and trying to predict the nature of the future baby. This activity can bring both great pleasure and stress for future parents. In order to avoid such stress you need to focus on some important issues.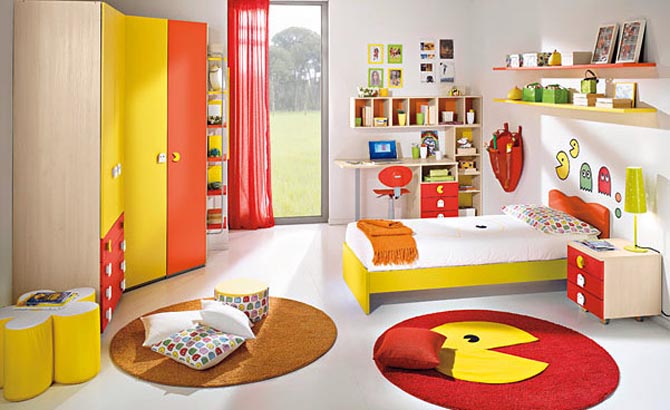 Princess Room: Design Secrets
So, first of all, it is worth noting that the boy 's children's room and the girl's children's roomare two completely different rooms, and therefore the secrets to design such rooms are also canceled.
If you happen to be the parents of a wonderful little princess, then the first thing you should pay attention to is the color of the room. You should not think primitively and paint everything around with pink, because there are many other equally beautiful colors in the world. But do not forget that the decoration should not be too bright, so as not to irritate the eyes of your princess. The perfect solution is a combination of pastel shades that not only does not hurt, but will also contribute to the development of the child's imagination, allowing him to grow in a comfortable atmosphere. But the furniture in the room and toys just the same, you can buy bright colors. In addition, an important point is the practicality and durability of the structures that will be used in the interior, because the health of your baby depends on it.
For the design of the girly room, it is better to choose soft beautiful and comfortable furniture, in particular, this concerns the child's sleeping place.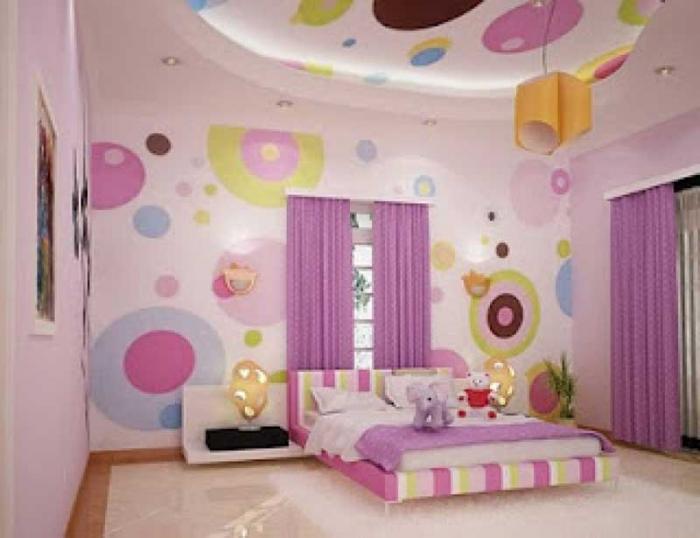 The real man's room: how to arrange
As for the boy's child's room , everything is not as easy as it seems. In a color format, the tips are the same as for the design of a room for a girl: the main rule is to do no harm, so do not overdo it. The most important point in the design of the room for the boy is the allocation of space for an active game . If space permits, then you can make a small sports area in which your future man would practice his athletic ability.
In any case, the design of the nursery must also take into account the interests of your child, because in principle, all efforts are for it. And most importantly, do not be afraid that the interior of this room will stand out from the overall design of the apartment, because this is normal. Moreover, your child certainly wants to be an individual, and not just like everyone else.
The main rule that you should arm, considering the interior of the nursery is the creation of a "dream room", and with such a goal you will certainly succeed.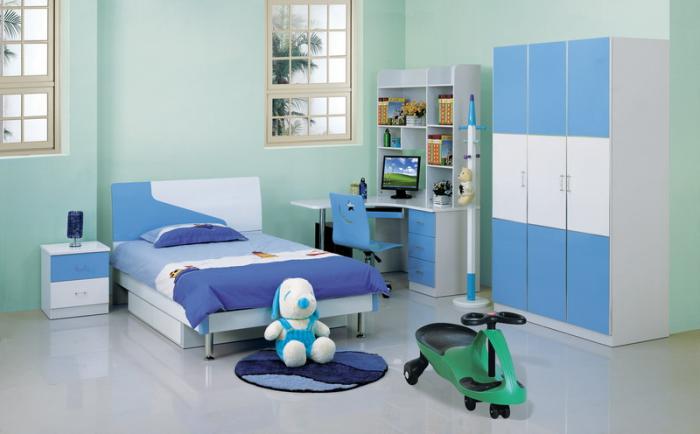 Balcony interior design
Often the apartment owners forget that the balcony is the same part of the apartment as the other rooms, and therefore turn it into some kind of cache of unnecessary things. But meanwhile, the correct design of these square meters can transform your apartment as a whole, creating in it one more wonderful corner for relaxation.
There are many options for how to design the interior of the balcony , but they all come from the functional features that you want it to perform.
If your house is full of flowers, then the most advantageous solution for you will be to design a balcony in the form of a small botanical garden. Such options are actually quite popular today, because it is not only functional, but also very beautiful. However, such a solution is more suitable for gardeners or for those who know how to care for such a living beauty. If you do not feel the strength to support such a small botanical garden, then you better focus your attention on some other decision, because after a month of such beauty you will have to make dried flowerpots from the balcony and think again how to liven up your interior. balcony.
Another functional option is to design a place on the balcony in the form of additional working space. Here you can arrange a desk and a closet for storing books and documents.
Read about how to choose a desk for the student !
This design is more suitable for people who spend a lot of time at the computer. As for the color, in this case it is better not to overdo it and choose light pastel colors, combining them with the same low-key furniture.
But the most popular solution is to design a balcony as a separate place for tea drinking and comfortable reading of books. In this case, the furniture is better to choose soft and comfortable in pastel shades, perhaps with some bright accents. The main thing is not to overload the space with furniture, because minimalism is now in fashion.
In any case, the design of the balcony should not be radically different from the interior of the entire apartment in order to maintain the most complete image that you yourself would first of all like.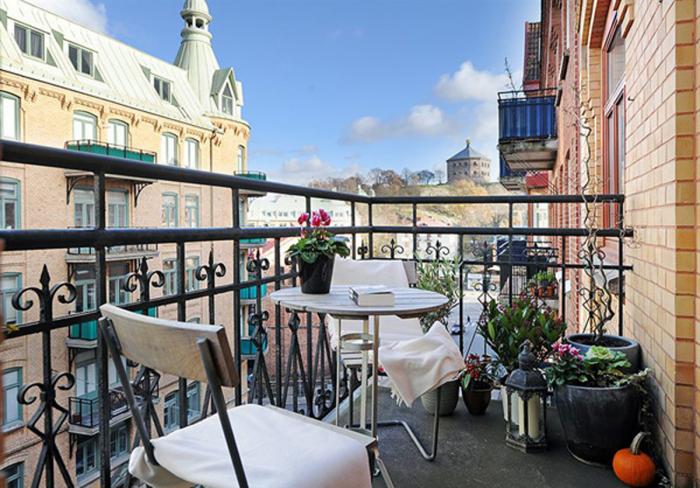 Design small apartment: saving space
Small apartments require more attention than a regular apartment, because in their design the owners want to realize all their desires. And besides, it is important not to overdo it in your efforts and not to turn an apartment into a kind of showroom of a reality show.
First of all, you should decide on the style of your apartment, and after that buy the necessary furniture. Best of all are the options that do not involve the accumulation of furniture, and appreciate the space as a whole.
As for the color solution, the choice is yours. But it is still better to moderate your ardor and use bright accents moderately and tactfully.
Often in the design of small apartments they try to differentiate several zones at once: for work, for sleep and for rest. In this case, you will need plasterboard constructions that allow you to turn one square room into a real functional labyrinth, ideal for living.
Those who are not a special admirer of drywall constructions should think about another option, when the room is only visually redrawn into two separate areas for rest and work with furniture. In such a case, you should use more FUNCTIONAL FURNITURE, such as soft sofas or corners. One more functional piece of furniture can be a wardrobe .
But, the main advice, follow your desires and you will succeed.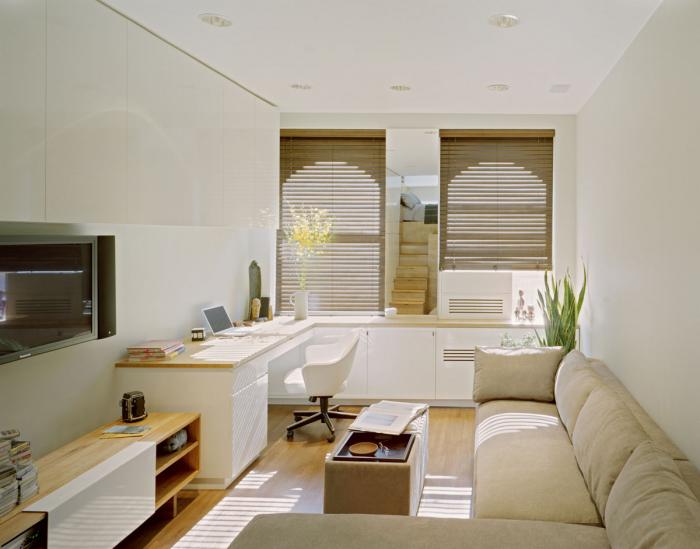 Design studio apartments
Today , studio apartments are considered the most popular housing, as their cost is not such an unaffordable luxury, and yet they give us the opportunity to have our own, albeit small, housing. This option is an ideal solution for young and energetic people who value their space and want to live independently.
The first and main advice that you should consider when designing a design in your "studio" is the harmonious ratio of the part of the kitchen and the part of the living room.
Nowadays, the option of space delimitation with the help of a bar counter , which can also serve you as a dining table, is becoming popular .
Furniture during design should also be selected on the basis of the general concept of your interior, but the most advantageous option is the use of practical and concise furniture, without excessive pretentiousness.
Want to add color, pay attention to small decorative elements: pillows, flowerpots for flowers, photo frames and other trifles that would please your eye.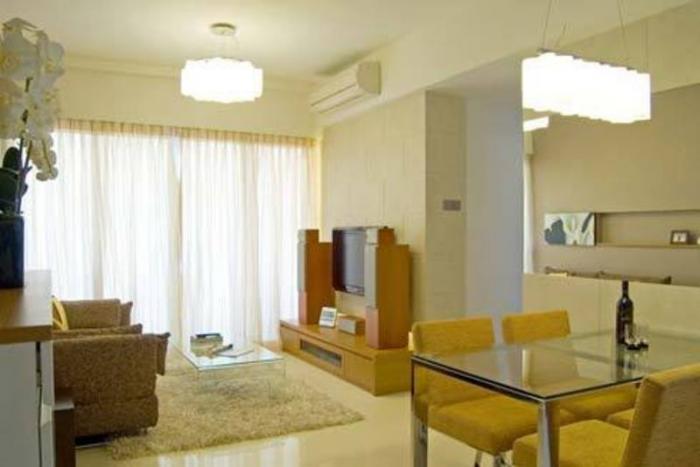 Curtains in the interior
Curtains are an important part of the interior, to which it is simply impossible to treat negligently, as this can spoil the look of your entire apartment. After all, they bring to our house that necessary coziness and comfort.
Nowadays, many people prefer to use massive curtains of brighter colors along with light pastel shades of tulle. So you can revive the space of your room without resorting to more drastic solutions in the form of changing the wallpaper or changing the painting of the walls.
Often, to create a lighter look, windows are decorated only with fragile curtains. If you like this style, you will have to take care of additional dimming of windows with the help of blinds in order to prolong your morning sleep.
It is also important when choosing curtains to understand what material they are made of, because this is directly related to the duration of their life. Most often for the manufacture of curtains manufacturers use linen, cotton or silk fabrics, which are also combined with synthetics. In addition, in the manufacture of such a product, velvet, wool, reps, and imported organisms are used. Now the choice for the buyer is huge: this way you are offered fabrics with different textures, such as:
brilliant;

matte;

smooth;

textured;

with additional application;

with an image.
However, decorating windows with curtains and curtains also depends on the overall interior of the room, which should be in harmony with them, because curtains are their complement, and not a separate part of the interior.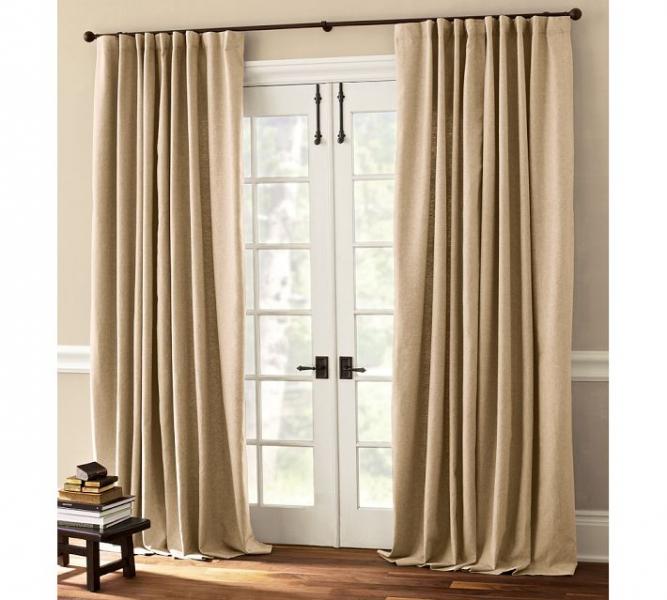 We make an apartment with your own hands
Increasingly, we prefer to refuse the services of professional designers, preferring to their own tastes. This trend in the past few years in the market of design services is not new. Moreover, no one, except us, is better than our tastes and needs, and, therefore, we cannot make an interior that we like.
So, the first thing you need to decide on the style that you will use in your interior. All further actions depend on this.
Next you need to organize the purchase of the necessary, high-quality materials and tools. After the repair, finishing, you must do the selection of furniture and accessories, but be sure that if you have already reached this stage, then you will certainly succeed!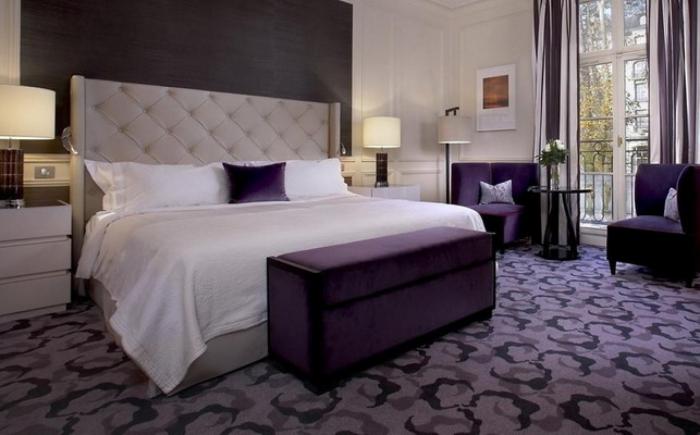 How do you feel about this article?