Creating a unique interior in the toilet or bathroom. Photos of new products in 2017 for the individual design of your bathroom. Tips for choosing plumbing, materials for floors and walls, as well as the color scheme and design of toilets of various sizes.
---
How to choose materials for toilet design?
When we hear about the interior of the bathroom or toilet, the first thing that comes to mind is a tile (or ceramic tile). Many prefer to use it for cladding these premises. After all, it will be a universal solution to the main consumer requests:
moisture resistant (not wet);

practical (easy to clean and wash);

durable (with time it does not lose its attractiveness and color);

a wide range of colors and textures;

with skillful combination, he is able to visually change the space of a room.
If you are not too conservative, then you can not be limited to one tile, there are many other beautiful and equally practical options.
No worse than tiles or porcelain tiles will look plastic panels. They also do not get wet and easily cleaned of all kinds of pollution, without losing the appearance of its period of use. But if the area of ​​your toilet is small, we do not advise them to decorate the walls – during installation they use a crate that hides part of the space, which is not much in the toilet of a simple apartment.
The most budget and the easiest way to arrange your bathroom will be wallpaper – it is beautiful and inexpensive. But they must also be resistant to high humidity (on the roll there must be a corresponding note about this). The best option will be:
non-woven

 ;

vinyl;

liquid wallpaper

 .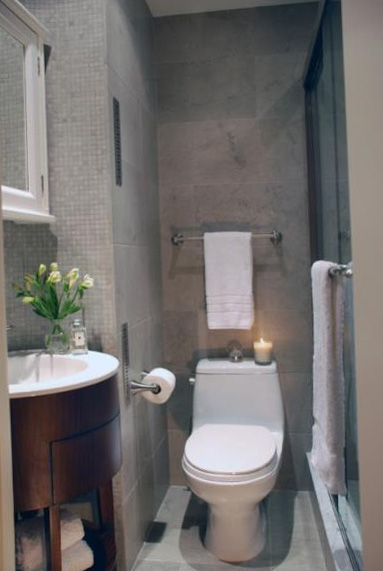 Go
The latter appeared quite recently, but have already been successfully used in the design of the premises. They are applied to the wall with a special roller, after hardening, they must be covered with a water-repellent solution. A wide selection among colors and shades will delight you.
Read our article about choosing wallpaper !
"If you are not too conservative, then you can not be limited to one tile, there are many other beautiful and equally practical options."
THE COST OF REGISTRATION DEPENDING ON THE MATERIAL

| | | | |
| --- | --- | --- | --- |
| Material | Tile or Porcelain Tile | Plastic panels | Wallpaper |
| Cost of | High | Low | Average |
On the choice of plumbing and furniture
If your toilet does not have a large area , but you really want it to be cozy and comfortable there, pay attention to the hanging constructions of toilet bowls. It is ergonomic and externally reduces the space occupied. If desired (again, if space permits) a small sink can be installed in the bathroom. In order not to allocate plumbing equipment on the general background, which already cannot boast of large volumes, it is better to pick it up to match the walls – this will visually expand the surrounding area.
In order not to spoil the whole appearance, carefully consider how you will hide all the pipes and the layers. As an option – leave for them small closing windows, providing for these bathroom nuances when repairing the bathroom.
The best assistant for you in this will be plasterboard . Their installation is simple, and takes up little space, perfectly hiding "unwanted structures" and the available meters.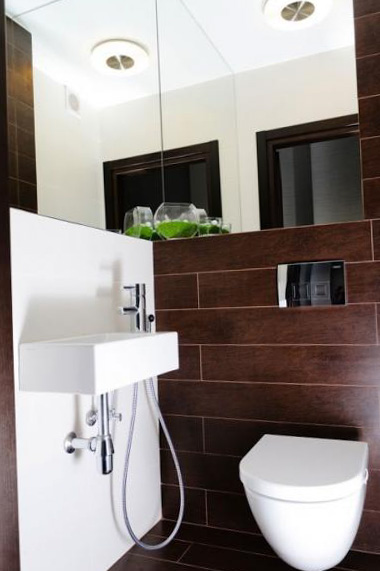 For a larger increase in space in a small toilet, choose doors of light colors without any drawings, and glass inserts will not be superfluous. But the mat can interfere, it is better to make a "warm floor" – it will warm your feet on cold days, which will allow you to feel comfortable here. If, however, the rug is already purchased, then make sure that it is in tune with the walls or the floor and there are no inscriptions on it.
Not less effectively allows you to expand the space and chrome fittings used in the interior of the bathroom:
faucet (if there is a sink);

toilet paper holder;

ruff and its stand;

handles on the door;

button on the toilet bowl and the like.
Having correctly selected all the components, you can easily expand a small toilet, making it a stylish and comfortable bathroom. But what to do with a large space? Believe me, and with this, many people have problems. One of the best solutions in this situation will be the furniture – functional and, of course, necessary in such a room.
Related article: Bathroom Furniture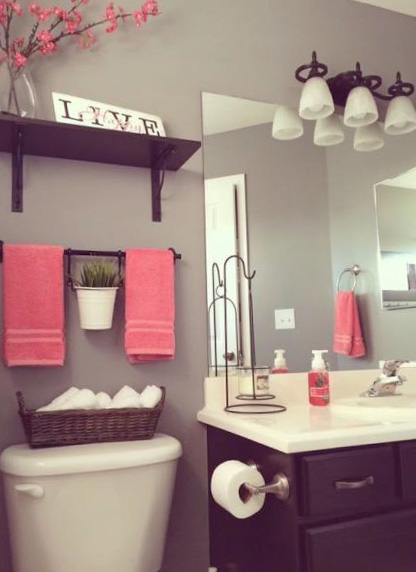 In order for your bathroom to get its unique finished image, you have to make a lot of effort in registration and repair. But everything will be in vain if you do not care about the choice of furniture and other necessary accessories for this room. Choosing high-quality plumbing, finishing the walls and floors, you can proceed to the selection of various shelves, cabinets and other functional furnishings.
Creating a finished image, pay special attention to the selection of suitable accessories and accessories:
towel holders;

soap dish;

stands for toothbrushes and flavoring;

toilet paper holder;

brush and stand for it.
"Undoubtedly, the furniture should not be excessively separated from the general style of the bathroom."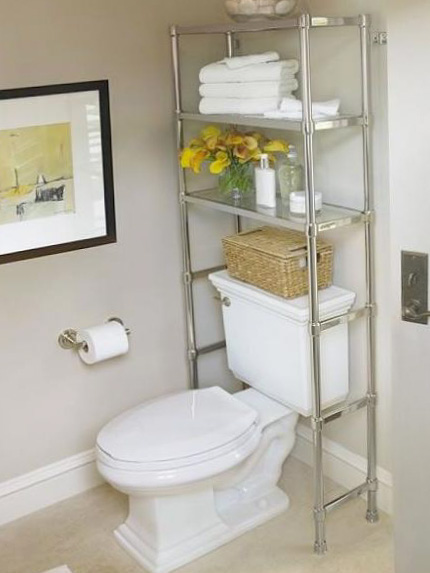 If you have such an opportunity, order a shelf according to your individual dimensions and install it behind the toilet. It will look like a closet and toilet are one. This is convenient, because there is extra space to store something.
Color design solution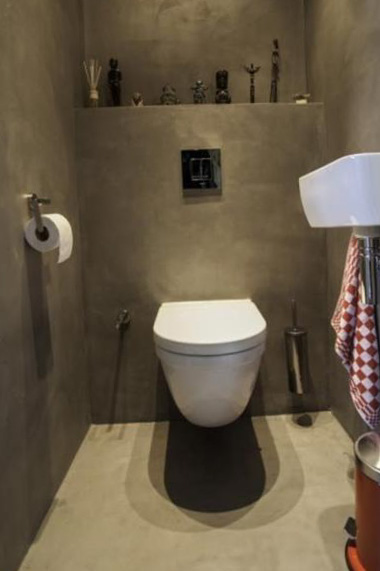 Finishing materials and the choice of furniture we considered. Now I propose to proceed to the visual correction of non-standard sanitary facilities. The main tool will be color. Varying those or other shades, you can expand or narrow the available space.
If you tiled the bathroom with tiles, then you will come to the rescue of its geometric shape, types of location, and combination with each other. Thus, a rectangular tile should be placed long side along a short wall, which will expand the narrow room. But if high ceilings are also added to this, then it will be necessary to make a border of tiles about half the distance between the ceiling and the floor. In this case, the bottom should be darker than the top or brighter.
However, with a low ceiling and a sufficient width, it is better to make vertical inserts to choose a contrasting tile or a bright pattern.
If you have a sufficient amount of finances with a narrow bathroom, you can, as an option, try to put tiles diagonally not only on the floor, but also on the walls – this allows you to expand any space, but be prepared for big expenses, because there will be a lot of trim.
| TO NARROW DOWN | TO EXPAND |
| --- | --- |
| bright and dark colors | light and cool colors |
| horizontal lines with high ceilings | vertical lines with low ceilings |
To date, the tile has a huge variety of shapes and sizes, so be aware that excessively small or huge tiles in a small interior are unlikely to fit harmoniously. Therefore, be careful and if this is not justified by the general plan, then it is worthwhile to exclude such a choice.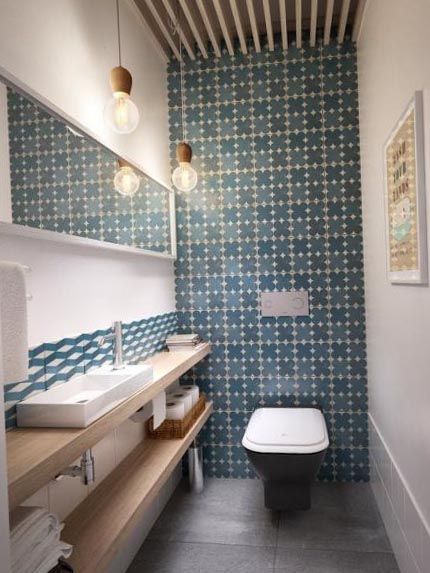 Toilet lighting
No matter how original and creative you do not issue your toilet during the repair, it will be faded and unsympathetic without properly selected lighting. This is a whole science, but we will try to tell you about the most important thing.
"In any bathroom the most advantageous will look not only large wall lamps, but also the so-called spot lights on the ceiling or on the floor."
In principle, here, as in any other room, you should certainly feel comfortable. People who think that it is possible to manage with one weakly luminous bulb will be wrong. When making lighting it is important to consider the size of the room, decoration materials and other design elements.
For example, for a small toilet in the "Khrushchev" lighting should be brighter, so that the walls do not "put pressure" on you. But the restroom in new buildings mainly fits dim light. In any bathroom the most advantageous will look not only large sconces, located on the walls, but also the so-called spot lights under the ceiling or on the floor.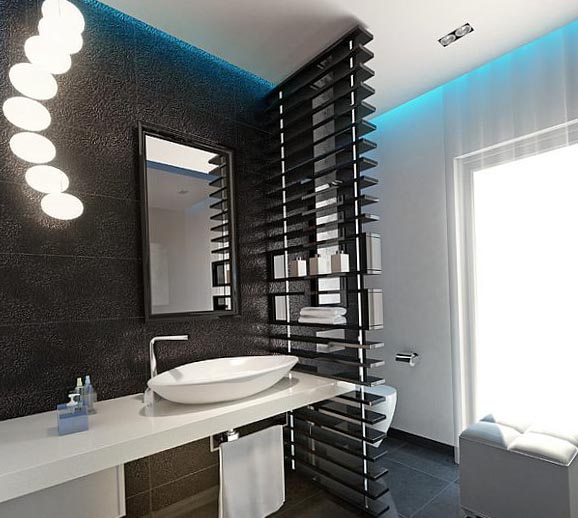 About the nuances of design depending on the size of the toilet
Toilet design 1.5 square. m
Sometimes, using the most common objects, you can recreate the original and unique design, without making any great efforts. In any case, it is not necessary to overload the already small bathroom with all kinds of souvenirs, vases and panels. Completely and without them, you can make this room cozy and beautiful.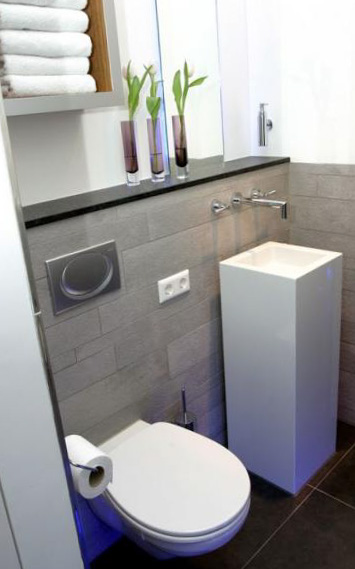 For more than one year, ceramic tiles or granite and marble slabs have been used as the main finishing material. And due to the fact that the bathroom in a simple apartment does not differ in large size, the main task of these materials is the maximum expansion of space, varying the location of the plates and the use of colors to enhance this effect. It is also important to select small-sized plumbing, or with a suspended structure.
Toilet design 2 square. m
The main idea is to maximize the use of small space. Toilet bowl, again, better to choose a wall mounted. And if there is also a cistern built into the wall – great. This will greatly reduce the space occupied by plumbing.
In a room with such an area you can fit a modest washbasin. Both the corner model and the sink hanging from the wall, near which towel hooks and a small mirror are added, give additional space to the existing space.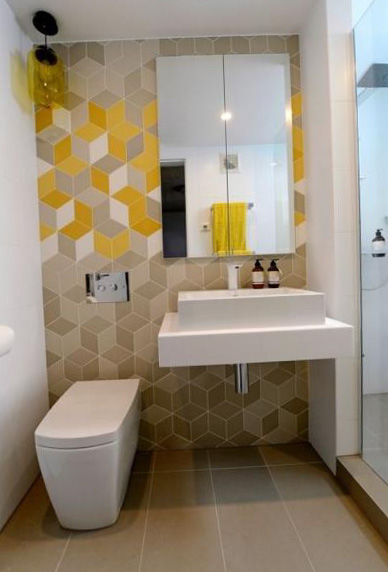 For the design of the walls fit liquid wallpaper of light shades or glossy tiles. Having chosen a completely white color for the walls, do not forget to dilute it with several bright elements so that the overall design does not turn out to be too impersonal and faded.
Large toilet design
Having a large area of ​​the bathroom, I want to make it as beautiful and as modern as possible, so that it is convenient and comfortable to use, and its interior has become not only practical, but also durable.
If your bathroom is combined, then not only a bathtub, but also a shower cabin will fit perfectly into it . From home appliances in the interior, you can use a washing machine, which can be either built-in or located outside the walls and pedestals under the sink. It will be great to complement the design of the room with all sorts of original decorations – vases, plates with drawings, photographs and the like.
If a very large space strains you, you can finish the walls in dark colors, which will significantly narrow the space. Also, the presence of cabinets and cabinets will allow you to take empty seats of the interior.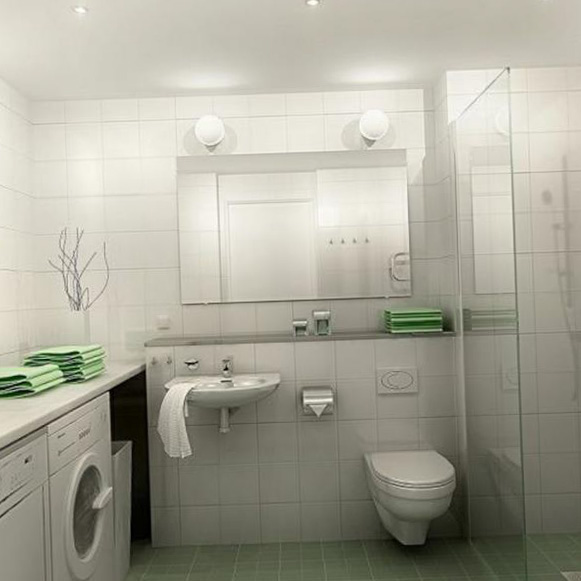 Techniques for visually increasing the floor space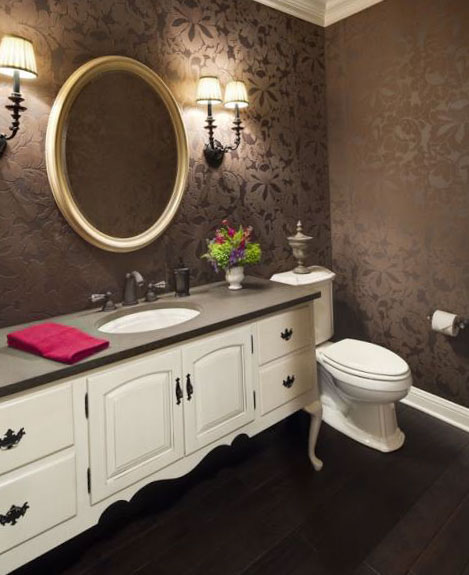 Large sconces should not be bright if the toilet has extensive space.
About the design of the combined toilet
Also read our bathroom design material to find even more ideas for creating a unique design!
Toilet with sink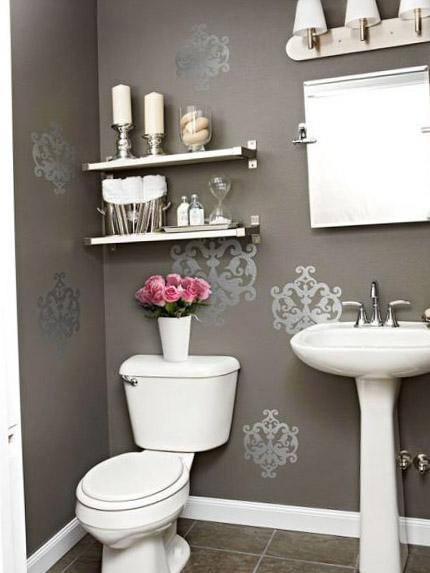 Such a design is applicable only in small bathrooms. Where there is no possibility to arrange a lot of furniture and accessories. However, there is everything you need – a toilet, sink, mirror, several small shelves for small items and towel holders.
WC combined with bathroom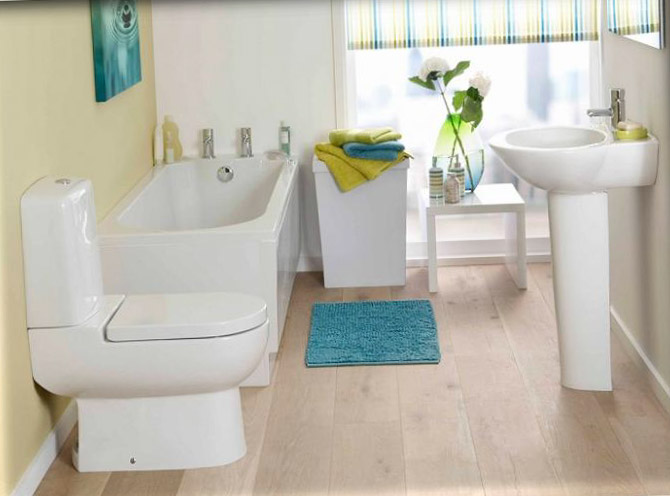 It is one of the common options. Combining a bathroom with a toilet is done with the sole purpose – to make the most of the available space. Such options have a lot of pros and cons, but mostly it concerns only the human factor (when there are many people in a family).
New 2017 in the design of bathrooms
I propose to consider some of the most exciting new products in the interior design of the bathroom in 2017.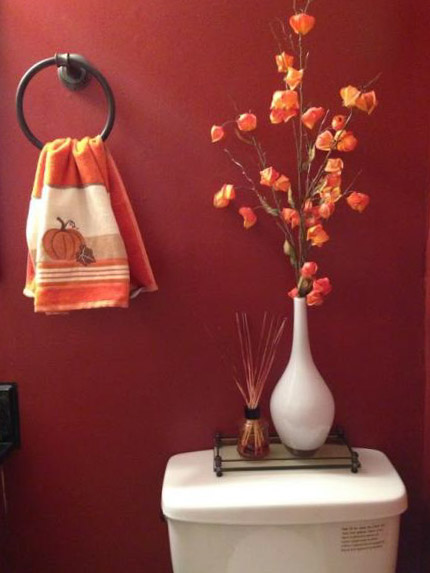 Marsala hue (warm wine color in maroon-brown tones).
You can also view other options for the design of bathrooms and toilets.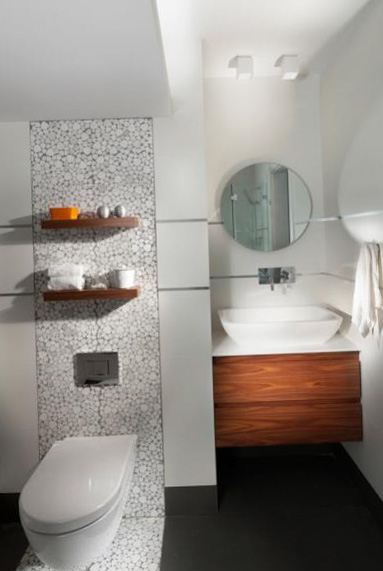 How do you feel about this article?